This week Michael Bronner is sharing a poem by Robert Frost.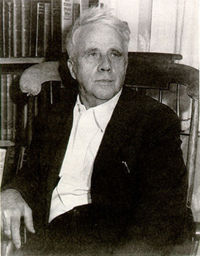 Robert Frost was a renowned poet characterized by his employment of nature within his poems. He was born as Robert Lee Frost in San Francisco on March 26, 1874 to Isabelle Moodie, and William Prescott Frost, Jr. He married his high school sweetheart Eleanor White, and had 5 children with her. Sadly, only one of Frost's children outlived him, the only one to live past the age of forty. He received the Pulitzer Prize four times throughout his life and many other awards. At the age of
86, he had the honor of speaking at John F. Kennedy's inauguration. Frost died two years later at the age of 88.
I chose this poem because of its call back to simplicity. In a world where we consider doing something useless three times faster, progress, where technology hinders more than aids, this poem reminds its reader to stick to the simplest, straightest path; which in this case, is the noblest path. In the midst of the "Go Green" economic craze, where it has become disgustingly profitable to preserve the planet we live on, I ask you to pay close attention to the first two lines of the last stanza of this poem (Minus the foolish, because I love you all).
God's Garden

God made a beatous garden
With lovely flowers strown,
But one straight, narrow pathway
That was not overgrown.
And to this beauteous garden
He brought mankind to live,
And said: "To you, my children,
These lovely flowers I give.
Prune ye my vines and fig trees,
With care my flowerets tend,
But keep the pathway open
Your home is at the end."

Then came another master,
Who did not love mankind,
And planted on the pathway
Gold flowers for them to find.
And mankind saw the bright flowers,
That, glitt'ring in the sun,
Quite hid the thorns of av'rice
That poison blood and bone;
And far off many wandered,
And when life's night came on,
They still were seeking gold flowers,
Lost, helpless and alone.

O, cease to heed the glamour
That blinds your foolish eyes,
Look upward to the glitter
Of stars in God's clear skies.
Their ways are pure and harmless
And will not lead astray,
Bid aid your erring footsteps
To keep the narrow way.
And when the sun shines brightly
Tend flowers that God has given
And keep the pathway open
That leads you on to heaven.