Look at the bling on her
From McNally Jackson Books to my house to my bag(s), this book sits (already water-stained) waiting to be finished. That event of closure is not far off, I swear. It all depends on my willingness to let go of summer vacation; this book serves as a visual reminder of days in which my life was not dictated by dates on a syllabus and lazy group members. ...In that case, I really will be reading this in small increments to kingdom come. Oh, well. At least let me tell you about the book. That
is
technically the purpose of this column.
Whoops. I lied. But the story of how I got this book is just as interesting, to those of you still reading.
It was part of a crazy cool scheme to try out new books. My friend (hi, Edrean) and I had already spooned the last of the foam from our $4.00 lattes to our mouths (Can you feel the college student vibe?), discussed the subjects of the stacks of travel books schlepped from downstairs (Hello, Macaulay. Funding?), and people-watched the crap out of the hipsters.
Hipster-less cavern of hanging books
So I set off on this thing for each of us to find five books we each personally wanted to read, explain to the other person the reason for each book's presence, and buy one of the books from the other's choices. On my list?
The Secret History
by Donna Tartt
This is How You Lose Her
by Junot Diaz
Wind/Pinball
by Haruki Murakami
The Empathy Exams
by Leslie Jamison
The Tipping Point
by Malcolm Gladwell
I remember nothing of Edrean's list besides
Crazy Rich Asians
, and if that doesn't say anything about the type of friend I am, then I don't know what else to say.
I could spend half a year explaining why I chose those books, but I'm not a sadist. So I'll end this preamble by saying you and your friends should do this too next time you're hanging out in a bookstore. If you're not particularly close to the person before this, you definitely will be coming out. If you're already familiar with their freaky brain, you receive the pleasure of exploring that terrifying territory...intimately. Win-win, winning everywhere! (Confetti cannons explode in the distance.)
Now that I've pushed those cannons away...
Crazy Rich Asians
! Sounds like the title of:
a) A diet racist TV game show
b) A harrowing documentary that WILL change your life
or
c) The actual title of this book (Shia surprise)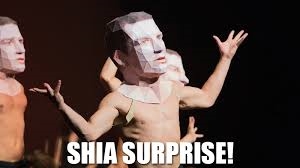 Jokes aside, this book centers around New Yorker couple Nicholas "Nick" Young and Rachel Chu. Rachel, a "common" Stanford-educated academic knows nothing about the splendor of Nick's background. He's descended from three "richer than God" families: the Youngs, the Shangs, and the Tsiens. He grew up in an estate in Singapore not dissimilar from a palace; his family members drop one million dollars in 15 minute jewelery splurges. Rachel Chu has been clueless about these matters for the two year duration of her relationship with Nick.
The book's beginnings swirl around Nick's family's gossip about Rachel: who she is, who her family is, and if she is worthy enough of Nick. As the book continues, the reader feels wonder very much akin to Rachel's as she discovers just how powerful, luxurious, and "crazy rich" this humungous network of a family is.
Any book that allows me to greedily intake a wealth of descriptions about, well, wealth that I will (happily) never acquire in my life is always undoubtedly awesome.
Now, Alex. Onto your thrift store madness and Trader Joe's trail mix.
Good day--
Alexandra Caruso