A White House Campaign
The civil war in Syria has been raging since 2011, forcing more and more people to flee their homeland for survival. These Syrians have been witness to horrors many of us could not imagine, and been strong enough to withstand the terrifying journey a refugee must take for safety. They have gone without food for days, walked mile upon mile in search of help and a way out, huddled up on boats too small for the droves of Syrians so desperate to settle elsewhere that they would risk their lives. But global response has dwindled while refugees in need of aid has increased, leaving a severe humanitarian crisis in the world's hands.
The United Nations has requested $4.5 billion this year alone to cover the costs of aiding more than four million Syrian refugees, but they are still nearly $
2.7 billion short
.
Despite criticisms of not taking in enough refugees, the United States government has given over $4 billion since the crisis began, and have just launched the first ever charity-based Kickstarter to crowdfund the needs of
Syrian refugees
.
The White House contacted Kickstarter, a crowdfunding company for creative endeavors, to start this drive, making the campaign for humanitarian aid a little simpler for the masses. This drive, being the first of its kind, is quite unlike most Kickstarter campaigns. Firstly, donors do not have to sign up for a Kickstarter account to contribute, and instead of receiving a reward for their contributions, they are told how their money helps. All of the funds donated go straight to USA for UNHCR (The United Nations High Commission on Refugees) to be utilized immediately, instead of Kickstarter taking their usual 5% cut. Finally, whether or not the goal of $2,450,000 (enough to fund immediate necessities and a place to sleep for 10,000 people) is reached the money is still donated, contrary to regular policy.
However,
like
most Kickstarter drives, there
is
a time limit: one week, and it ends
October 13th, 2015
.
That's tomorrow!
Please, if you have any money to give, donate it.
This drive hasn't gotten extensive media coverage and has yet to raise more than half of the goal since its inception. I truly hope this drive gets extended, or gets another shot with more publicity, because these people are in dire need of help. A few clicks can feed someone, bathe someone, house someone. You can take part in helping the refugees of Syria reclaim a bit dignity and hope.
- Renee
.....
I'm Dizzy From All The Head Shaking.
Today, there is no class. Why?
This guy.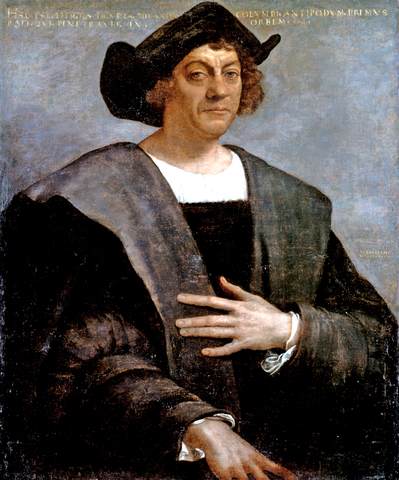 You might recognize him from such hits as "first grade whitewashed history class" or "that guy who is hanging out at 59th street and Central Park South." Also, "Hanging out in the park at 66th street," because that guy gets around.
And once a year, people act like complete fools at a parade celebrating "The Discoverer of America," by waving the flag of Italy (George W Bush language used because they make about equal sense),
Why are the bagpipers playing?!
I mean, why don't we just go all the way, here and call it "Cultural Illiteracy Day." Sure, this "Discoverer" couldn't find the actual continent of the United States if he were spit there by cannon, and, he sort of definitely murdered thousands of people of whom he said this about:
after telling them "hey, you're brown, I'm white. That means I'm super better than you, now AMSCRAY! But first, where's your gold? I like that necklace."
Need a primer?
Fortunately, lots of cities (read: definitely not NYC) are changing the landscape of the holiday of genocidal tendencies to that of "
Indigenous Peoples Day.
" It is aimed at recognizing the cultural, spiritual, and varied peoples who originally populated our fair nation. (Which was actually, again, NOT FOUND BY THIS ASSHOLE. Or, really, any white dude. Because people lived here. GAH! Off-track.) Seattle is the newest city to join in. Minneapolis. Various cities scattered across the US.
Because, again, this makes no sense.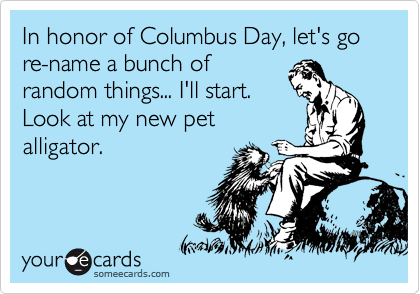 Ok, just one more.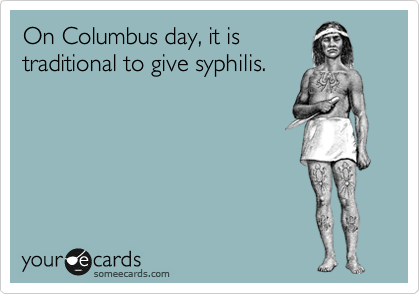 If you want a parade to celebrate something awesome and Italian, let's go for something ACTUALLY AWESOME. Like, say, indoor plumbing! (Think of the float possibilities!) Puccini! Because, this:
LISTEN TO THAT!! I could die happy listening to that. Seriously. Listen to that ITALIAN dude singing an awesome ITALIAN song by an ITALIAN composer. It's basically the most amazing ever.
Every fecking food ever invented on that boot-shaped nation. Honestly. I just went to La Palina on Ave O on Friday night. I had long strips of boiled gluten tossed with a stinky bulb vegetable and the pressed fat of a fruit--and it was a miracle on my tongue. I'd totally go to that parade. There would probably be killer wine and some boss opera music.
Hell, an entire parade dedicated to Mario Batali's orange crocs makes more sense. At least those shoes were made for walking the route--I think. I can't be sure with crocs.
If you're in the mood to celebrate with some real live indigenous people, and say, thumb your nose at Central Park West, might I suggest this celebration:
--C