Minna-san!
OHAYOO! KONNICHIWA! HISASHIBURIDESU! I would write this in proper kana, but this is the English Department blog, so I am restricted to writing this in romaji. Actually, I shouldn't even be writing in Japanese, but until the English Department at Brooklyn College brings the East Asian Literature class back into the Comparative Literature program (oh yes, holy schedule wizards, you offered that class back in the 60's and 70's and it somehow vanished), I will continue to write in Japanese. I would write in other Asiatic languages, but I'm afraid I have elementary to no knowledge of the other beautiful languages, except for Chinese and Japanese. Don't get me wrong: William Langland rocks my boat, Chaucer gets me going, Christopher Marlowe makes me swoon, and I can't quite publish here what Shakespeare does to me lest I be banished from ever writing on this blog again! The more modern writers are okay, too. I just think a little Li Bo, some Tanizaki Jun'ichirō, and a lot of Pak Wan-So in the department would be divine. Consider it, onegaishimasu!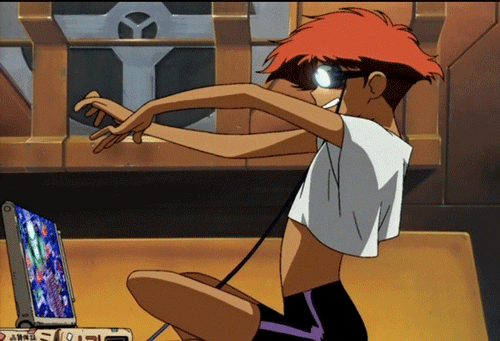 This is how I get things done. BTW, one of the greatest anime, EVAH!
Okay, so on to the announcements:
CALLING ALL AUTHORS, POETS, PLAYWRIGHTS, AND ARTISTS! The Junction is looking for you! It's that time of year, where we are accepting submissions to be featured in the next issue of our literary magazine, The Junction. If you have no clue what The Junction is, please come to 3416B and let one of the interns give you a copy.
We're currently looking for original short stories, excerpts of longer works, poetry, brief plays, and original artwork done by you, the students. Email your submission at

BCZINESUBMISSIONS@gmail.com
.
F
or more information stop by 3416B and chat with our interns. Deadline for submission has been extended to March 20th!
CALLING ALL AUTHORS, POETS, AND PLAYWRIGHTS! The Writer's Circle, the student-run creative writing workshop, is looking for you! If you'd like to share your pieces and workshop them with your fellow peers, meet the fabulous people of the Writer's Circle in 2307B every Tuesday from 12:30PM - 1:30PM.
CALLING....um....PRETTY MUCH EVERYONE! The English Department Open Mic is happening on March 24th from 12:30PM - 2:00PM at the Woody Tanger Auditorium in the Library! If you want to read, perform, or sing, a sign-up sheet will be posted on the door of 3416B around March 10th (or maybe sooner, if weather permits) for you to sign up. For more information, stop by 3416B!
Finally, take some time to remember Harper Lee and Umberto Eco.
Stay strong and persevere through the fourth week of school!
Spring break is 62 days away, as of this post (ugh, so far!).
- Luis @ The English Major's Office, 3416B