Had my Heart Since I was Three...
Music is life! I truly believe this because music has the power to improve or worsen my mood more than a lot of other things. I am always in my own zone when I have my headphones plugged in and am bumping or bobbing to a song that I love. This is usually me listening to a song I love immensely.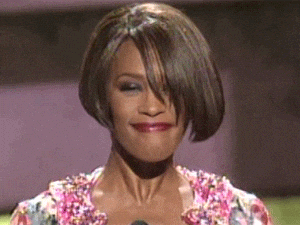 I listen to several genres of music such as Soca, Calypso, Reggae R&B, Hip Hop, and Pop.
If we're talking about currently listening (ALWAYS listening), let me share with you someone I have been slightly and unhealthily obsessed with since I was three.
Her name is Aaliyah Dana Haughton, also known as "Babygirl."
I love her not only for her music, but for her effortless beauty and unique style. Here is a compilation of Aaliyah's unique style in various music videos.
I'll just leave this GIF right here for you guys to admire her beauty like I've been doing for the past *blushes* twenty years.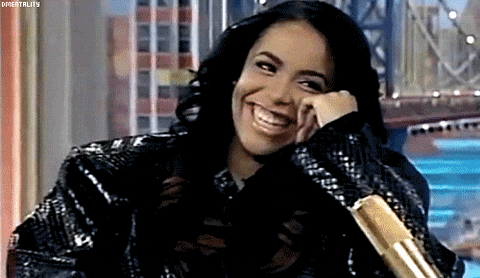 Aaliyah passed away at the age of 22 on August 25th, 2001. Though she passed away at an extremely young age, she is still known as the "Princess of RB." Thankfully, her music and character still resonates with many people 15 years after she passed away (especially with me).
I remember when she died, seriously! I was the saddest six-year-old around. My love for her was and still is no joke. Here I was when she died: Sorry for making this post a sob story, I am ready to share with you all why I love her oh so much.
Her music speaks to me. I honestly can't think of another way to say this. When I am down, I turn on her music and am immediately feeling better (most of the times). I just love the variations, nuances and different ranges she was capable of expressing in such a short career.
Aaliyah's complex voice spanned from sweet, gentle, airy, breathy, harmonious, and low, (trust me I can go on and on about her voice), which is something special.
Not only did she possess the ability to sing with an amazingly soft, deep tone, she also had a beautiful head voice.
In "Death of A Playa", Aaliyah displays her skill in singing in a lower register which is one of my personal favorites because I always remember mimicking her voice and trying to make it as low and smooth as hers.
Though she is singing about heartbreak in "The One I Gave My Heart To", I can't help but feel happy because she is so aesthetically fulfilling. She belts through her emotions and I immediately understand and feel the music.
Aaliyah uses her beautiful head voice in "Let Me Know (At Your Best)."
I love live performances of my favorite Aaliyah songs, (I think all of her songs are my favorite, so that's not really helpful) because I am able to hear her voice at the moment of the actual performance, not a pre-recorded track.
"The One I Gave My Heart To"
Here is another live performance, "Journey to the Past."
Okay, I will leave you guys with one more song that leaves me in tears almost every time I listen to it because this is the epitome of how I feel about Aaliyah Dana Haughton.
"Miss You"
"It's been too long and I'm lost without you."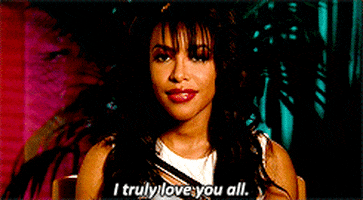 I Love You Too Babygirl!!!!!!! Forever and ever!
Had my Heart Since I was Three...
This is Kayla, fellow Trini signing out,