My Mind Loves its Filibusters
I am currently procrastinating.
In fact, I will probably take multiple breaks while writing this post and, in essence, procrastinate on my procrastinating.
As a fellow college student, you probably completely understand what I mean. We know, collectively, that delaying our inevitable workload proves bad for us, yet we continue to wait until the last minute to write that paper and as such stay up into the wee hours of the night to finish it.
Oh, w
e promise that we will
never
do this to ourselves again.
. .
And then we do it again.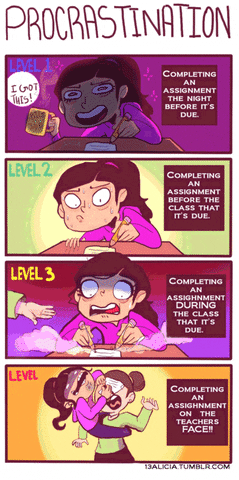 I have been thinking about what causes me to procrastinate a lot recently.
I've asked older friends how they were able to get out of these ruts.
I've also tried reading books on procrastination.
I've even attempted to push myself to break down projects into small bits at a time, but I've just continued to swallow them whole.
My brother's babysitter once told me:
"I am a perfectionist, and THAT is what makes me a procrastinator."
Can you believe it? Has the truth been hidden in my memories all this time?
The truth is: I am a perfectionist.
I am so absolutely terrified of failure that it gets in the way of my success.
For example, I am so terrified of taking my first actuarial exam that I have barely studied for it.
If I had dedicated an hour a day to studying for the exam, I would probably be completely fine right now.
Instead, I am trying to find the quickest way to absorb all the information so I can at least
pass
the test.
My problem as a perfectionist is that I
must
wait for the right time to do anything and everything.
If I don't feel inspired then I have no inclination to do anything
at all
, even if it's something I love.
I also think this is one of my vices as a creator:
I can clearly see the difference when I am "in the mood" to write, versus when I am not.
In the first instance, my writing flows with excitement and intrigue.
In the second, I cross out every line while I wonder how anyone could ever perceive me as talented.
It is this second instance that prevents me from writing the shitty first drafts that will eventually turn into masterpieces (with the tender love and care of editing, of course).
I'm trying to teach myself to let go of these fears of failure.
I'm trying to allow myself to succeed.
I'm trying my hardest not to procrastinate.
(I'm actually pretty proud of myself that I have been writing this for the past ten minutes and have yet to look at my phone!)
Now,
I don't believe that our vices get fixed overnight;
I think we have to choose every day to work towards our goals.
Sometimes we mess up.
Sometimes we go back to our old ways.
Sometimes we let the thought of failure paralyze us from reaching the success we know that we're capable of.
In those moments, we have to push ourselves to keep trying.
I am not successful yet, but I am trying.
I am choosing every day to take a step towards success.
And no matter what my ninth grade Earth Science teacher said, trying is not failing.
Instead, I'd like to think that trying is a new beginning, in which we open a new door and start a whole new adventure. Our success (or our failure) is dependent on our willpower to continue on.
(Author's Note: I spent most of my teenage years writing YA romance novels, so being cheesy is in my nature. Also know that even if what I write is cheesy, I believe every word of it.)
-Michelle Cherian